Send2UTorrent
A simple client application for the uTorrent WebUI! Use it to open a .torrent file, and it will immediately send that file to the specified server running uTorrent WebUI for download! Download it now!
HAVING PROBLEMS SINCE UPGRADING TO uTORRENT 2.0?
You need to update your WebUI plugin, as per these instructions:
http://www.eddieoneverything.com/forums/topic18.html
Send2UTorrent should work again.
Why?
Here's my scenario: I've got a file-server which runs 24/7, so I figured it would be convenient to use it to download torrents. So I installed uTorrent. When I got tired of having to use remote desktop or VNC everytime I wanted to start a torrent download, I came across the WebUI plugin that comes with uTorrent. That made things significantly easier - I no longer had to use remote desktop or VNC to initiate downloads on the file-server, but I still had to download the torrent files to my computer, launch a browser, point it to the WebUI, click "Add torrent", browse to the torrent file and click OK.
Then I thought, why not just develop a small program which can to this automatically? Just associate it with .torrent files, and when it runs, it simply connects to the uTorrent WebUI and uploads the .torrent file automatically?
So I did, and here I am.
How does it work?
When you run it for the first time, the configuration window pops up, where you need to specify the name/ip-address and port number of the computer which runs the uTorrent WebUI. You also need to specify a username and password to access the WebUI.
You can also tell the program to close itself immediately after it has sent a file to the WebUI. If you associate the program with .torrent files, this feature is recommended. Then all you have to do is double click a .torrent file, the program will open, send the file and then close itself. No extra mouse-clicks required.
If you run the program without specifying a torrent file as a command line argument, the window below will be shown. You will be asked to click the "browse ..." button to select a .torrent file to send to the WebUI.
For the best experience, I recommend associating .torrent files with this program. To do that, right-click any .torrent file you might have, select "Open with -> Choose program ...", browse to the location where you unzipped Send2UTorrent.exe and select it. Check "Always use the selected program to open this kind of file".
Screenshots!
The main window of the program as it appears when the program is run without specifying a .torrent file to open: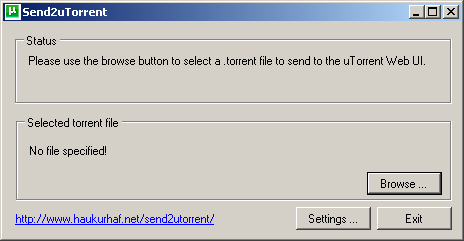 The settings window: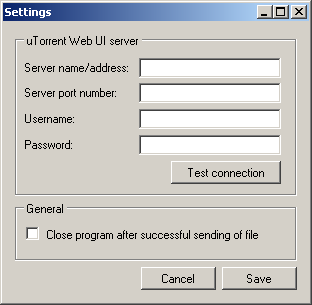 Download it now!
Download Send2UTorrent_v1.0.zip
(10kb Zip-file. Simply unzip to a directory of your choice and run the program. No installation required).